One Nation, Under Reconstruction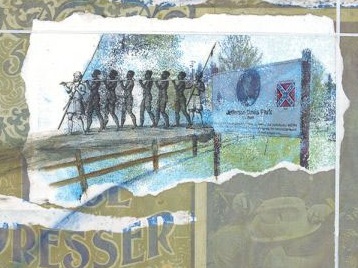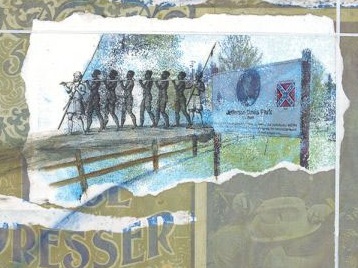 One Nation, Under Reconstruction
Featured in the NAAM exhibit You're Not From Around Here, Are You?
This collage on birch board considers the gap between the Northwest's reputation as a "progressive" region, and its ongoing racial disparities in education, housing and other spaces.
A reproduced cover of sheet music from the American post-Civil War era frames a smaller collage on paper. The sheet music's title alludes to a smoothing-over of wartime conflict, enlarged to rest on a birch board foundation, However, the reproduction has been sectioned and then pieced together in deliberately-misaligned sections. The smaller collage presents a vintage illustration of enslaved people and their guards, layered over a present-day image of a Confederate monument in southwest Washington state.